Mary Mourning has inspired me to share more of sewing projects. Generally, I'm always looking for ideas to post about I'm thinking to post once a month of about my current sewing project or even a previous one I've made. I'm going to call it Geordy Goth Creations.
One of my most recent creations was McCalls 7723. I fell in love with this pattern due to the dramatic sleeves and high necklines. I particularly love top B with it's bellowing sleeves and top A flouncy bell sleeves with corset detail. I purchased the pattern when McCalls had their sale costing £5.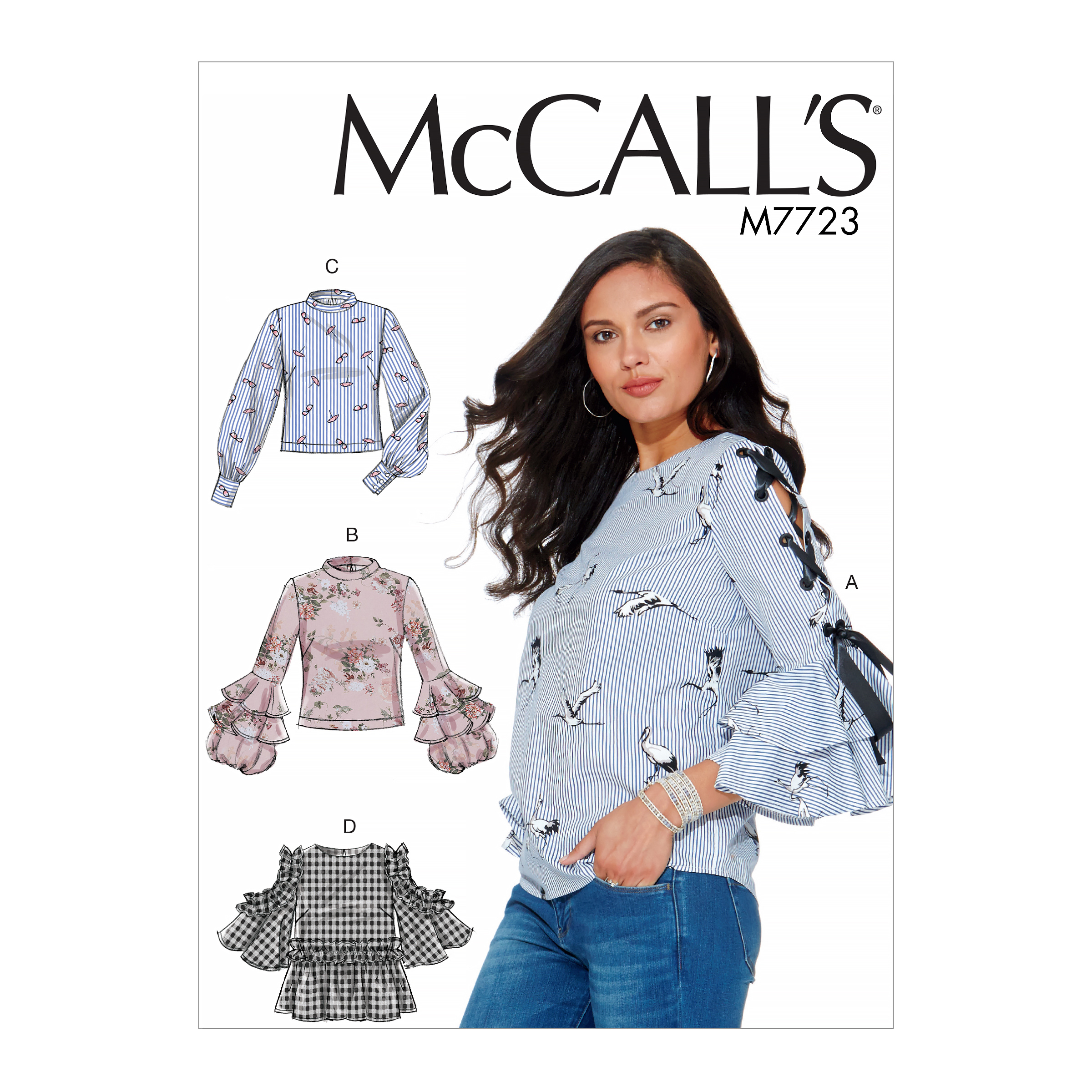 The pattern recommends using woven fabric like cotton lawn fabric, viscose.etc. I made this top as a toile often I try to use a material where I can wear it. I used a cotton viscose fabric, I paid £6 for three metres. I found this top used 2.8 metres for top
After purchasing the top, I didn't realise how boxy the top was I altered the pattern to make it more fitted by tracing the original design on to baking paper. I used another pattern piece from McCalls 7657 to create a Princess seam by tracing around the pattern insert and altering to fit the top's pattern. I forgot to take a photo of it, but I also used a curved ruler to outline the new seam. When I cut the top out it was too large I sewed it up first then took it fitted it.
Mistakes, I made when cutting out the flounces in half, not realising it was meant to be a full circle. I also cut out the top too short as I was following the instructions of a sewing pattern, next time I'll just use the entire length of the top pattern. I tend to make my skirt quite high waisted, it's not too bad.
I've also have tried to teach myself how to use a narrow hem foot and thought the lightness of fabric would suit a rolled. After hours of practices to no avail, the hem failed. Also, trying to use narrow hem foot on a circular flounce it was
far too challenging. I resorted to using marrowing hem aka the rolled hem on my overlocker. It still gives light and almost professional finish, while retaining the drape of the fabric.
The collar was a standard process of interfacing and attaching via the stitch in the method. I definitely surprised, my with an accuracy of sewing, definitely improved over the last year. The pattern method suggested using an elastic loop, but I opted for button fastening, again using one-step buttonhole. I like to use decorative buttons to add some interest to the top.
This is the back of the top.
For the hem, I overlocked the raw edge and did a single narrow straight stitch.
Princess wondering what the heck is she doing, I guess
by her
look I 'm not going to be a model anytime soon. Lol.
I really love this top one it's still not quite fitted enough for me I've found adding a waist belt has helped and adds an overall detail to the detail. Another issue is what to

wear with the top? What works well is a

handkerchief hem

,

a maxi

skirt that seems to complement the blouse. I've already made at least three skirts so far.
The finished top
Sorry, I
forgot
about the masking tape, a small project I'll post soon.