So at the moment, I'm loving the whole sort age of Aquarius vibes with the bohemian and hippy fashion taking precedence. In both alt and mainstream fashion headdresses seam to be everywhere. I've sort have been admiring this trend from afar.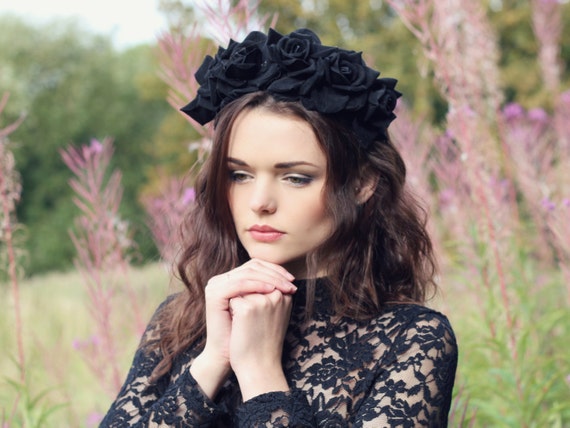 Source
There are some gorgeous headdresses to buy. Yet, the cost is anywhere from a few pounds to more elaborate handcrafted ones going to the hundreads. Its out of my budget at the moment, espcially since I want my craft room decorated. Anyway, I admire and respect these independent artisans who are creating beautiful items, however, I understand their prices needs to reflects their labour, time and materials. I try my best to purchase from independent sellers, presently my budget is the quite tight so it's going on my wish list..
So, I decided to diy one a floral headdress with the assistance of Angela Benedict tutorial on how to create a floral headdress. The video was really good for instructions. I've tried to explain to my best of my ability. If you like me sometimes a visual Youtube video is far more effective. I'm too lazy and tired to make my own.
I purchased a headband for 30p from Home bargains, I picked up another two for another project. I had some black faux flowers from a cheap shop for a pound and some gorgeous green leaf trim from Tiger, I love this shops. All materials came to £2.30 and a couple of blisters. I used a glue gun. I got mine from Asda for £5 - £6 and refills are 60p ( from Asda).
I measured the trim by placing around my headband to get the right size and cut it.
I used the hot glue gun to glue down the ribbon every few centresmetres. I left it to dry.
I started in the middle and glued the rose onto the band at a slight angle to allow for maximum hold. Before glueing down each rose I positioned the rose to get the right appearance before glueing it down once I was happy I placed a blob of glue place it on to the band, I held the rose on the band for 10 seconds and allowed to dry. In place,
I add an extra few dobs of glue to the rose to help stabilise flowers.
There was a few gab so I filled these with the black leaves to hide the wholes I glue these down.
I wasn't happy with how messy the back of the headdress looked, so I hand sewed all the petals together to hid the glue dobs.
Warning be careful while using the glue gun I got blisters.