Last Month, the Boyfriend and I ventured down to Bradford for the cities infamous Infest Festival. That features music acts ranging from Industrial, electronic, EBM, synth and future pop music genres.
The festival began in 1998, with some local students working with the union Entertainment manager, Floyd Peltier. They organised a festival to feature local Goth bands from West Yorkshire. Originally, the students gauged the local Whitby festivals patrons and sellers after receiving positive feedback the event turned into a two-day festival after getting Alien Sex Fiend to perform. The next year the organisers focused more on industrial and electronic bands.
Back in 2000 a local independent Goth/ industrial promoter, Mark Gus Guy stepped in to take over the festivals running and establishing Infest to focus on more Industrial and EBM styles. Ever since Infest has gained an international renown for its music act with patrons and bands travelling from all over the world to attend or perform. (Source)
For me and the boyfriend, it was our first time attending the festival, which was surprising considering the boyfriend loves early Industrial and electronic music. We mainly attended to see the Die Krupps, which rarely tour outside of Europe. I was really looking forward to seeing them. The boyfriend booked tickets purchasing for the Saturday night, as the full weekend ticket was £75, to be honest, we weren't particularly bothered about the other bands so much as we like some industrial, and EBM but not massively. Either way, it was still great getting away as work had been very stressful for me.
Personally, I wouldn't recommend Bradford as a weekend destination I think it's not worth visiting alone. It's worth exploring if there is an event going on. I was surprised about some of the hidden little gems.
Friday
We arrived at 3 pm and stayed in the Victoria Hotel that was centrally located, it was a minute walk from Greggs (very important for me and the boyfriend). The train station. Surprisingly, it only cost less than £70 a night but quite comfortable. One of the hidden gems had Bradford's awe-inspiring town hall. The hall's tower had me intrigued as it seemed to be more of a Spanish/ Florencian Gothic style which looks rather odd in the Yorkshire landscape but I like it. One of the photos is now hanging on my wall.


These were a few pictures, I had taken these photos when I visited Bradford back in April.
This is the photo hanging on my wall.
I had a quick gander around the local charity shops I didn't find anything. I headed to the market for fabric. I was surprised the seller remembered me from the last time I visited. I usually love going to the Asian fabric shops as I tend gorgeous fabric and it's quite cheap. I purchased lace for 50 p a metre, the lace fabric was £2 and the scuba fabric has a lovely jacquard pattern and was £3 a metre.
I met the boyfriend at Jacob's Ale and Cider House, definitely Bradford's best-kept secret, as it has won CAMRA Best cider pub of the Year with nine different ciders. I managed to settle on the Snail Bank Tumbledown.which was a pleasant cider.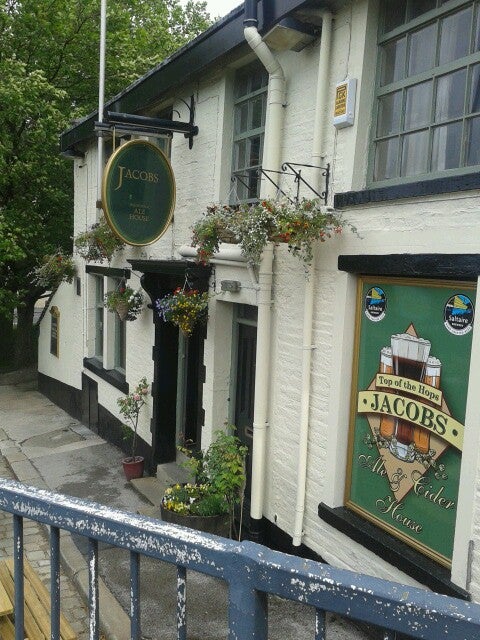 Source
Since we were in Bradford, which is famous for its Asian community, we opted for a curry. Bradford's best curry house Karachi, a Pakistani restaurant. At first sight, the restaurant is not much to look but once you taste the food it's superb. The food is more authentic than other curry restaurants it tastes almost like what the local Asian ladies have cooked at my local community centre. The meal for two came to £17, very cheap.


Saturday


We had planned to visit the Yorkshire Sculpture park permitting on the weather, well the weather turned out to be perfect as it was dry and not too hot. A couple of our friends had visited the park last year and highly recommended it.


Yorkshire Sculpture Park is a spectacular trail for all senses; it uses the traditional beauty of the Arcadian style park grounds while displaying modern sculpture to create an open-air gallery. The unique concepts illustrate how new and old work seamlessly to a create wondrous visual spectral that kept surprising me at every turn. While simultaneously enticing my whimsical child and inner romantic.

YSP opened in 1977, it was the UK's first open-air sculpture park, which regularly changes its exhibition regularly. The estate was even mentioned in the Dooms Day Book in 1088. In 1407 the Wentworth inherited the grounds by marriage from the Dronsfields. Until it was passed to the Beaumont family in 1792. (which were viscounts Allendale. Their estates had many connections with county Northumberland. One point Newcastle belonged to Northumberland ). In 1949, Brenton Hall became an art college and was apart of Leeds University Campus.
I love these apples that had been made from bronze and how the metallic colours compliment the colours the tree. The apples conjured memories of the Nordic tales I used to read about Idun and her golden apples. Idun was is the owner and dispenser her magical apples that have healing and immorality properties
This sculpture my favourites along with my partner we perplexed by the Cthuloids sculpture.
I took this photo, as I liked the contrast of both the shapes and colours of sculptures in the distance.
I was fascinated by the pond and the water lilies looked gorgeous the pond looked so tempting to swim in.
This part is dam was installed after Sir Thomas Wentworth inherited the property he carried major landscaping work including the waterfalls, the lower and upper sections of the lake. The work was carried out by canal engineer Luke Holt.
As I walked it around the woodland with a plethora of wildflowers attracting numbers of butterflies allowing for some fantastic photographic opportunities.
I love this stunning view of the lake permitting a gorgeous view of Bretton Hall. It feels like a scene from a Jane Austen Novel. That coincidentally she was distant relative to the Beaumont Wentworth family and is believed to stayed here on occasions and served as great inspiration for her books.
I
Infest started about from three in the afternoon with a game of laser quest, offered Kari okie, stalls and other events We decided to turn up sevenish and managed to get lost, however, we saw people clad in black and PVC, saw we knew we were in right place, who kindly directed us to the festivities. When we first arrived picked up some our tickets and saw a familiar face Tim Synster who was reviewing the entire weekend. You can read about the weekend if you're interested. Friday, Saturday and Sunday. The boyfriend and I had a quick chat about how awesome the bands and event had been so far.

The next DJ the End.user used a mixture of EBM with a lot /jungle music with extreme mashup and a heavy use of drum and base, an interesting experimentation reminiscing of the late 90s. It was interesting to hear the mashing up and I enjoyed the part where he mixed up the classical vocals. I quite liked to begin with the start but after ten to fifteen minutes of identical and constant sounds, it started to wear down on me. I left with my other half. I assumed most of the audience had similar experience and only the most hardcore fans remained gyrating emitting iridescent colour from their glow sticks and luminous clothing. I summed this up by stating to my partner and his mate this wasn't it wasn't my cuppa of tea.


The finale of the night and our main reason for attending was to see the Die Krupp's. I don't have much to sum an awesome spectacular performance, which had me dancing and of the audience dancing throughtout their performance. I've actually used my partner's review which I couldn't even articulate let alone attempt. We treated a twenty minute encore.







"Die Krupps - Metal Machine - just stunning, had a little fear they wouldn't be which vanished pretty rapidly". My partner a man of few words but is very succinct.








Me and the boyfriend posing for a self by then he was rather merry and surprisingly I was sober as I wasn't feeling great, so I was on lemonade. I'm complete party animals. For an absurd reason, we starting debating the imperative nature of a salvoy dip being a northern thing or North Eastern thing. Sadly, I ended asking a couple people Finland and Holland who turned out to be vegetarians. I did apologise and a quick chat about the show and weekend. I have to thank them for accommodating my ridiculousness. Our debate was settled by someone walking past with a kebab (Gross) since the boyfriend was having the merry nibbles. Anyway, the guy, was originally from Bradford and lived in Darlington and explained he never heard of it until he moved to the east coast. It our chat he said had a post punk industrial band and they would be playing at local bar in our area in september, so I amd defintly going to check them out.