T
his is my first Vampire Soiree and anything which distracts my attention from this most hideous of days is always good. I'm not against the celebration of love. It's one of the things I believe in the most and the transformation it has on people. During these darkest of times, it's what we needed most. I believe in love it should be celebrated throughout every second of every day and be practised throughout with the simple gestures of time, need and in compassion; rather than one day that wreaks of falseness and consumerism purchasing a rubbish card stating how much it loves you with a generic poem. It should be them small gestures of where you've had a crappy day, and the other half smiles at you, hugs you and makes you an Earl Gray tea means far more to me than anything else.
My ramblings aside, we're here to discuss vampires. Like most of the dark of community, I've been that teenage girl, fantasising of being wooed by the Byronic and romantic vampiric sweeping me off my feet and being turned, (I was 15 years old when I had this dream). Technically, my other half has vampire-like qualities, a love of red meat, he gets slightly bitty with the lack meat consumption, averts sunlight at all costs, only comes alive after sunset and transparently pale.
In recent times, I've enjoyed the recent surge of vampire movies, and the new portrayal of them. My favourites were Eve and Adam from Only Lovers Left Alive they brought an entirely new elements particularly their tenderness and hunger for each other giving a refreshing take on the notion of vampiric romance.
A quick summary of the film is about relationships and love of the vampires Adam and Eve. How their relationship has survived for centuries and how they deal with living in the modern times, yet retain some of their ancient customs. The movie starts with Adam and Eve living in separate countries Adam in Detroit and Eve in Tanger. Adam is feeling melancholic about the world and contemplating sucide, even in his passion for music, he finds little happiness. Eve is so concerned about his state mind she travels to be with Adam in Detroit. They are more than content existing in their own world together everything is going beautifully until Ava's Eve's haphazard and wild sister comes to town and creates turmoil for the couple. It's a sophisticated gothic tale of vampire romance and some dark high brow humour.
Their relationship captures both humanities of light and dark qualities. I quite like how they've chosen to captured Adam with dark hair and clothing along with his personality representing the darker and destructive side. He's suffering from melancholy causing him to be suicidal. He lives a very reclusive life from people tries to find solace in collecting rare instruments and producing music; his attempts to find happiness are blocking his creativity with his depression. In comparison, Eve is far more lighthearted, adventurous, free spirited and attempts to integrate with her surroundings. I like how this was captured with her clothing and hair colour.She is more polite, gracious, with a playful manner and zest for life. Where Adam comes across as stern, intense,
and solemn; he is always cautious about people knowing of his existence. However. he does show emotion while interacting with his instruments.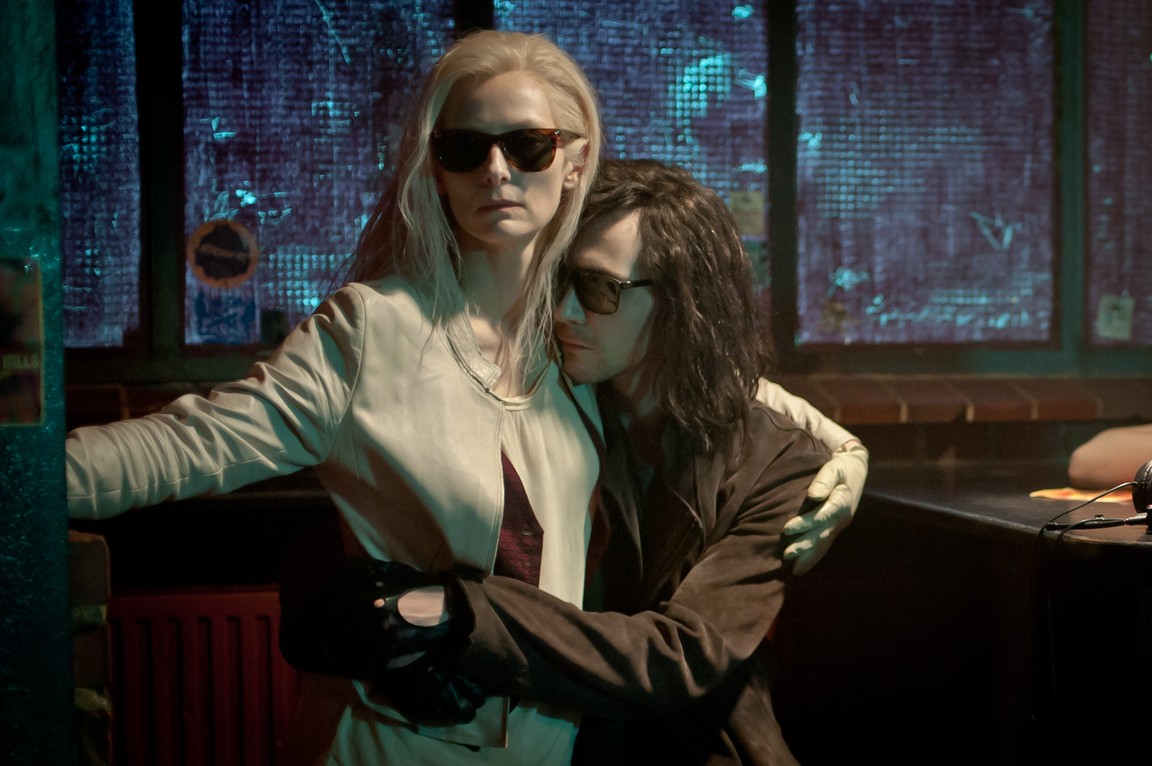 Adam seems to resonate in the past and makes more creative uses of his electronics and inventions. Eve is much more up to date using just her mobile phone. It's the first time, Adam seems to lighten up with a glint of happiness in him and he shows a far more caring and sensitive side; particularly when he describes " Zombies and them way they treat the world". Eve seems to bring him out of the darkness and gives Adam pleasure. Eve seems to be the more resilient, stronger and more rational one in their relationship.
Once they meet up, they felicitously gaze which speaks far more than words could. They intensely and passionately embrace each other bathing in each other's essence and how deeply they are connected. They are two being converting into one existence that needs to each other as much as they need blood for survival. The relationship is furiously wild. yet beautifully tender and restraint with the chival style gestures; such as Eve awaiting for Adam to sensually remove Eve's glove addressing each other as Lord and Lady.
Their relationship seems to work, despite being completely different; they still, support and respect each other's different interests. Adam loves music and science where Eve is fascinated by literature and nature.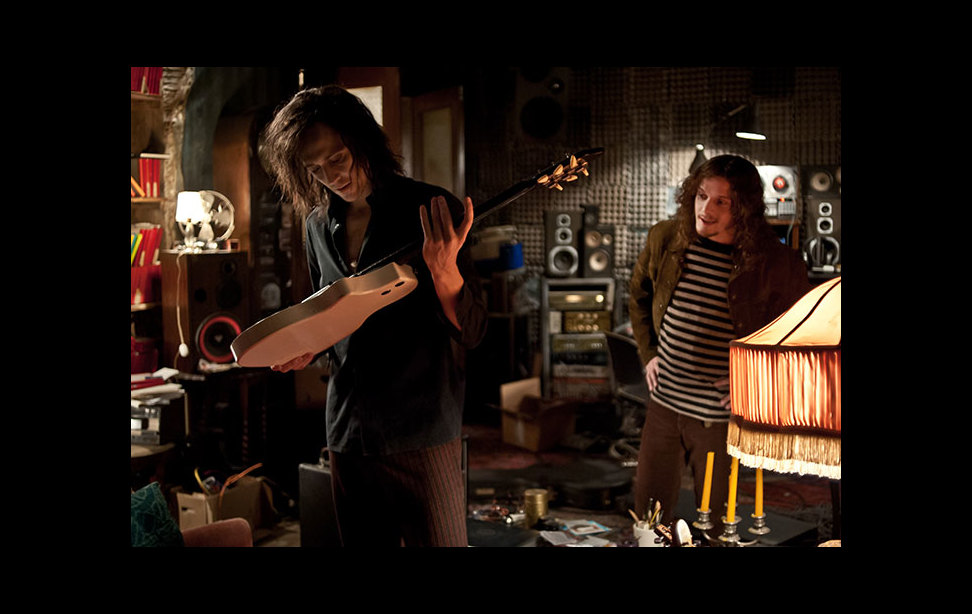 They both seem to share mutual intellect and wisdom that complements and challenges one another. I love the fact that, their relationship has continued and grown for centuries and still, they make it work. I like how they need each other so much, but they retain that sense of self and function without being together, as well.
My favourite part is the intensity and passion they experience just by simply being with each other whether it's going for a mundane activities from a drive, nightly stroll or playing a game of chess, the relish every moment of it. Also, how one is they respond when things go wrong. For example where Eve's sister, Ava, kills Ian and they work together to solve the issue by throwing Ava. Then, plan to dispose of Ian's body.
I think the best part demonstrates their strength and compatibility, when Eve finds Adam's gun with the wooden bullet ready to commit suicide and Eve address the issue. By placing the gun over her chest and terrifying Adam into retaliation of empathy from her point of view. I enjoyed how she scorns him but reassures him pulling out of his melancholy stupor, reminding of why things are worth living and encouraging him to dance.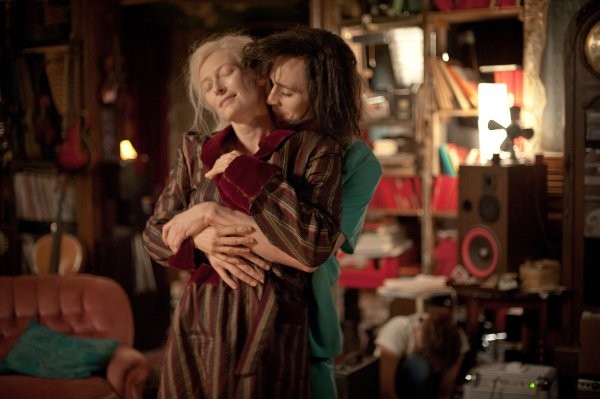 I think their relationship portrays the ethereal beauty of love through time and they delight in each other company. whether physically being together or not. Yet it feels, so human and tangible through the challenges their relationship endures it reflects the emotions relationships encounter and how a healthy relationship deal with it. Adam and Eve's relationships represent how I feel love should be practised by comforting each other during their weakest moments and celebrating through simply being with that person.
I think John Hurts character, Kit sums up their relationship perfectly "you can't live without each" Eve's reaction looks like she's thinking you can't live with them or without them