T
oday, I ventured from Newcastle Upon Tyne to the small seaside town of Seaham in country Durham . The journey was tedious, again that what happens with public transport, and yet, surprisingly easy to get to; with a metro ride to the rival city of Sunderland, and a 25-minute journey on the 60 operating every ten minutes.
I got the idea when a friend suggested we should visit as Seaham at some point to go beachcombing for glass. Until 1921, Seaham used to be one of the largest glass producers in Britain, and then the industry ceased. Seaham's beaches often have the waste glass washed up on its shores, which has lead to a boom of a cottage industry producing unique, colourful jewellery.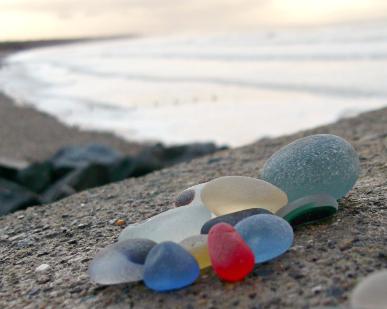 Also, the idea appealed to me perfectly as an avid skip rat and collector of anything shiny or interesting, I'm a nightmare for picking up rubbish. With the allure of the unusually bright and sunny day for the UK. I couldn't resist the lure to venture forth. I fancied doing something different compared to going to the charity shops and there didn't appear to be any groups of interest occurring that day.
The day started out bright and sunny then as I headed nearer to my destination the sun had disappeared with a coverage of clouds and looking overcast with the bit of blue sky peeking through the clouds.
I was happy to sitting on my mat and eating my sarnies and cake.
Me sitting having food
I stayed sitting taking in nature sensations: the wave battering against the rocks, the seagull calls, and a bird's chirping. Took the opportunity for to take the photos. After sitting for a while, I started doing some combing I didn't find anything too amazing but it's still a fun afternoon.
Some of my photo from the beach:
My finds from the beach below. My favourite has to be the trapezium glass piece I'm considering making a necklace, and turning some of the beads into earrings
I started to get cold and looked at around the town centre I left with a small strawberry plant and a hair clamp.