Hello, I apologise for not posting anything in a while, I've been busy, busy, busy. I wrote this post during my first week after going part time and only recently edit this; I know it's ridiculously late. I still feel it has merit to be read.
My first official week of part time is coming to a close, and my mind seems a sea of tranquillity without any hint of anxiety. So far so good to part-time, we'll see how things go. This week has been busy attending various interest groups and other activities.
Monday
I went to work but I've found a local writing group again, so I'm hoping to attend on are the more regular basis, it's held in Newcastle Library, so it's easy to participate as the metro stop is less than a minutes' walk. The group meets up twice a month at two different locations so that I can attend the Newcastle library event. On the first impression, everybody was very cordial and welcoming, but from the group's reading they seem to demonstrate a high standard of talent and experience, my skill isn't up to par. My reason for going is to stimulate the synapses to improve my writing skill include the standard of structure, flow of writing and syntax. I find it difficult to writing my ideas onto paper.
Tuesday
My first day off through the week and the boyfriend took a holiday, so, I spent a rare day with the boyfriend. The boyfriend and I have been discussing about purchasing a house, as we currently live in a two-bedroom flat, and he's decided the apartment is too small and wants a house. In the afternoon, we went to look at a three-bedroom house, but unfortunately, the house sold before we could make any decisions.
So we'll keep looking.
We went to watch the News-Star Wars movie at the Tyneside Theatre; cinema built in the late 1930's and utilises art deco design. The film is an entirely independent and serves the local community by showing an array of mainstream, independent movies and world films.
The theater supports young or budding filmmakers a place to network and to showcase their films. It's one of the only cinema to permitting the alcohol consumptions.
The movie was highly entertaining with an original plot line mixed with a retelling of the first Star Wars Movie; The Empire Strikes back. The story revolves around Rey, the strong female protagonist combining characteristics of Princess Layer, Luke Skywalker and Hans Solo. Luke Skywalker has mysteriously disappeared, and nobody knows of his location. Since the defeat of Darth Vader and the Empire, there has been an new emerging power, the First Order.
Rey is a scavenger on the desert world of Jack get involved with becomes involved with the battles between the First Order and resistance when she finds a BB-8 droid that contains information about Luke's where about. With the assistance of a rogue Stormtrooper Finn, the reluctantly join the resistance and the fight.
Abrahams feel as though he has rebranded the Stars Franchise recapturing the original experience for a new generation of using a copy and paste of the most iconic moment of the original movies. Using a Family Guy restyle of jokes that surprisingly works with Abrahams own take. The only downside is the movie feels a bit safe and a sense of Déjà vu in places making parts of the film seem predictable to the audience. I highly recommend viewing is essential, Abram's redeemed the movie franchise since Lucas's disastrous remake by creating an entertaining movie that's an easy, fun watch for all the family.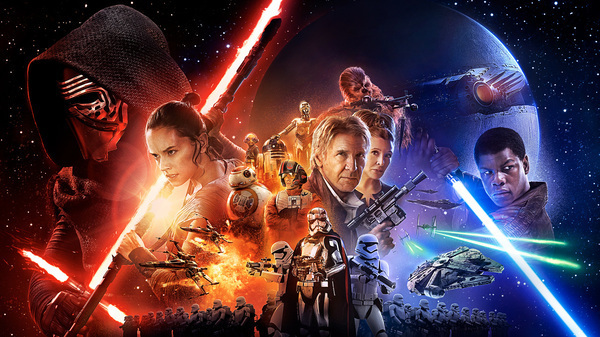 We went for drinks at the pub and went to the reasonably priced Nudo, a range of oriental cuisine that has an authentic taste. I order dumplings and seafood noodles for drinks green tea. We had a great day out
Wednesday
Work nothing exciting
Thursday
I purchase an original manga print by a local artist Io Zarate specializing in manga graphic print. According to Io's website describes, her works are unique and vivid pieces" taking inspiration from classic Manga artist like Dalí, Yoshitomo Nara and Takashi Murakami. Io has a personal flair for creating playfulness pieces while maintaining a minimalist and serial style while adding to the charm of her work which is clearly demonstrated in the unicorn collections taking inspection from the new my little Ponys series.
I'm not most avid fan of manga art. I couldn't resist her print of the dark unicorn; it's strange feeling but I felt some connection to the piece, not mention my inner child still loves unicorns. I like the merging of the dark blues with black; I think the one reasons I love it's contrast colours used as typically unicorn artwork uses much lighter colours to represent their purity.
In the afternoon, I attended my first quilting group meet-up everybody seem very friendly and appeared eager to have a new member join the group. In the group, the member was v. experienced ladies with a wealth of experience, knowledge and all willing to teach a willing novice. Over a cup of tea and cake, my first encounter was more of an introductory discussion about the group and the art of quilting along with advice on of using cotton for hand stitching and the possibility of synthetic materials on sewing machines.
Friday
Work and nothing exciting
Saturday
I ventured to South Shields Market to visit the fabric stall where I drawn in the temptation to purchase even more material despite promising myself to stop buying fabric until I used the rest up. I have an addiction to fabric help for the price I paid it and addition.
From top to bottom order crochet cotton sale bargain £1 per metres, sequence lace fabric, black stretch lace and black vinyl all cost £2 a metre.