Today was a pleasant afternoon out of with the boyfriend, despite the harsh winds blowing, that the North of England is presently experiencing. After making the boyfriend's wake-up potion, consisting of dark rich cocoa powder, Carte Noir coffee and a dash of bovine milk, essential for any nocturnal creature to awake. We venture to a Christmas fair, and afterwards to the Cluny's Beer and cider festival to part take in the merriness of the holidays.
The Christmas fair was held at Bensham Grove, a delightful and charming two-hundred-year-old Quaker Cottage, a hidden gem of Gateshead. Bensham Grove is a community hub that host arrange of adult learning courses, support groups, interest groups, toddler and services for over ninety years.
The house was built by Joshua Watson a Cheese Monger, who built the country house situated in rural countryside allowing for a healthy lifestyle for his family.Over the years the house continued to thrive and expand over the generations, the family continued residing there until 1919.
After the death of Robert Spence Watson wife's Elizabeth, the house became an Educational settlement centre. The family established a trust to instrument educational courses. Lettice Jowitt, one of the main wardens, opened the home where people rented a room and space. Jowitt worked with the Gateshead Medical Health Officer to establish A Mother and Child Welfare Clinic that also included Midwives and Health Visitors. The Health visitors visited the local community and offered to train mothers, who lacked knowledge of child care, this lead to creating a network and helped to establish the North East's first Nursery School.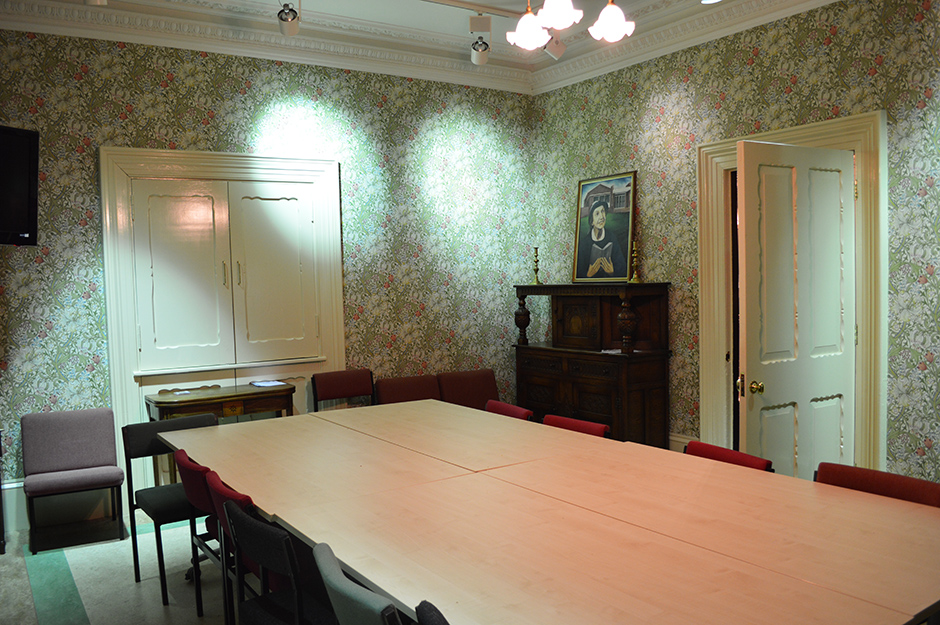 A lot of Benshams Grove values, beliefs and services have been inspired by the Quaker principles. There has a rich history of arts and crafts as the house was opened to Pre-Raphaelite painters and William Morris, concededly the house even contains Morris's fireplaces and stained glass.
The house has always adopted a tolerance and respect for Multiculturalism through Quaker beliefs remained to this day as the centre welcomes everybody. It was inspired by Joseph Watson the second generation to reside at the residence believed in the ablation of Slavery and often invited fugitive slaves including William Wells Brown and Frederick Douglas.
The centre has always promoted and believed in education from all walks of which is still being carried on to this day with the venue hosting Adult learning courses and supporting disabled students. Robert Spence Watson, third generation, believed in Education should be open to the working class, and he provided urchins with cleaning materials to shine shoes as a way of providing an income.
Infomation from www.benshamgrove.org.uk
Pictures from The Bensham Grove Facebook account
Bensham Grove held the Christmas fair as a way to raise vital funds for so many public services has been offloaded through cuts to local authority funding. I wanted to show my support by attending the event. The centre is where I attend my sewing class, and my sewing tutor informed the group of the event. Bensham Grove was an ideal place to hold a Christmas fair as in the spirit of the arts and crafts movements the vendor were local crafter selling their handmade and unique craft.
I thought they would be a larger turnout of vendors; still there were reasonable numbers of selling various goodies. However, there was a good turnout from the local community and users of the centre showing their support. Also, many of the stall vendors were offering workshops on trying out different crafts including card making, jewellery and even some proggy mat making.
One of the vendors at the fair was Sam one of the lasses who attends the sewing group. Sam runs Pikku Panda Designs designs and make bespoke jewellery and decorations out of perspex plastic and engraves personalised designs by laser cutting. I even commissioned a necklace myself, I fell in love with one of Sam's design and donned. I fell in love with the necklace instantly, it was amazing to see the final product; I opted for a sparkly black perspex engraved with a design similar the image of an atom. The design makes me think I'm looking at a picture of stars. Sam offered me a choice of chains, but I opted for a 40-inch chain that adds to the ethereal hippy look I like. I even bought a pair of butterfly's earrings or the boyfriend bought a pair for me.
I even bought a couple of items a stained glass mistletoe that was perfect for decorating my upcycled Halloween tree and a homemade candle.

P.s, I apologise for not taking more photographs